Joshua Herron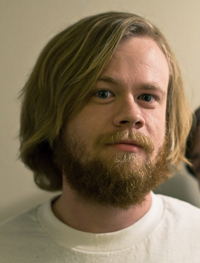 Joshua Herron
Born and raised in Las Vegas, NV, Joshua Herron; 21 years old, has been involved with digital filmmaking since 2002. His hobbies include film, music, peanut butter sandwiches, waffles, juice, hanging out with his dogs, sleeping, and of course….motorsports.
In 2005, Josh began his first job in the video industry as an intern at local Las Vegas TV station, KLVX Channel 10. During that time he worked as a camera operator and later became a video engineer, editing live shows. After 2 years at KLVX, and having to sit through countless hours of "Sesame Street, and Barney" Josh left KLVX to work full-time as a freelance video director/cinematographer/editor/colorist.
In July of 2008 Josh filmed his first professional drift event, Formula Drift Las Vegas. After being involved with the local drifting community, and drifting his own personal 1996 240sx since 2006, filming drifting and motorsports in general, seemed to fit perfectly into what Josh wanted to do.
Josh looks forward to traveling across the country for many reasons; meeting new people on a daily basis, experiencing America, and finding out what everyone loves about drifting and what makes drifting fun for them.