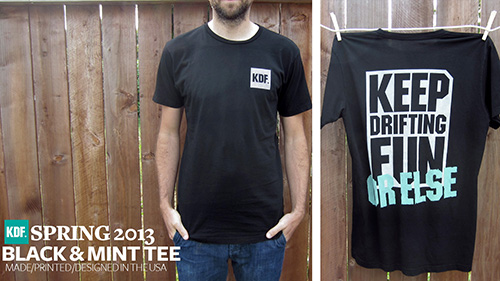 We asked via facebook to find out what colored t-shirts to print for our 2013 Spring line and listened to your feedback. These shirts will be available online only – next week.
There were a good amount of requests for the mint green color that we started using in our square KDF logo – so we made an entire shirt in Mint and Black!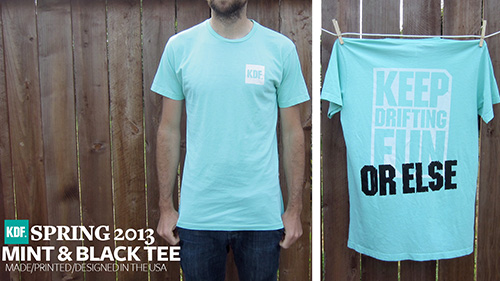 Another popular request was pink – since we haven't made girl's shirts in a few years we decided to print them on uni-sex blanks and offer a pink and mint t-shirt.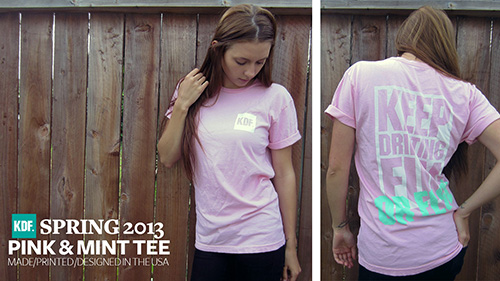 We also got the dye house to do this awesome shade of gray for us and continued the mint color on a gray t-shirt blank.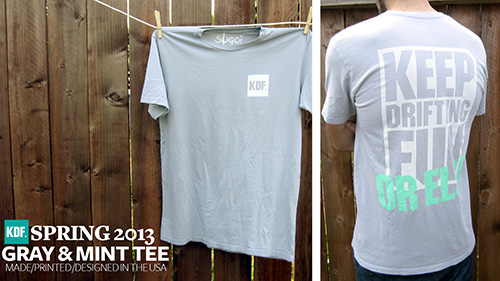 Unlike other automotive and lifestyle brands – we print our shirts in the USA, on US sewn and dyed shirts. We also use discharge inks – for a print that doesn't have any weight or feel to it. Unlike plastisol ink – which prints on top of the fabric, discharge removes the dye pigment and reveals the color of the fabric bellow. We are really proud of this year's t-shirts and have tried a number of different brand blanks and printing techniques to give you the highest quality product that will last for years to come.
Thanks for supporting Keep Drifting Fun!