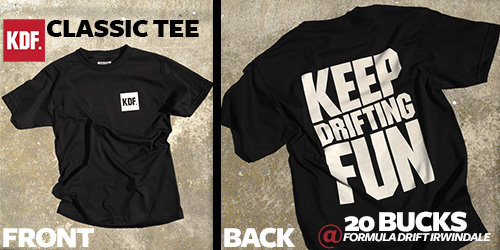 Irwindale 2012 is an appropriate place to release three new Keep Drifting Fun items – after all it is the last event of the 2012 Formula Drift season and going to be sold out and packed capacity. After selling Keep Drifting Fun tee shirts, hooded sweatshirts, and stickers for the past three years we've always had a demand for a heavier weight tee in black. We listened and made the KDF Classic Tee shirt. Which is printed on a heavy duty AAA tee. The heaviest tee shirt blank we've ever used. Plus we used discharge ink to keep the print lightweight. It features a small KDF square logo on the chest and a big block logo on the back. It sells for only $20 and is going to move fast. If you are attending Irwindale – be sure and pick one up!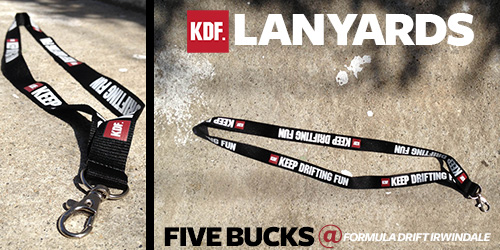 The second new item is our KDF Lanyards. Printed on a black Nylon Lanyard with a Lobster claw style clamp – it is higher quality than most of the other automotive lanyards out there! Plus you can show your support for Keep Drifting Fun and champion the message of enjoying drifting even when you're wearing a credential or carrying your keys. It is a nice addition and useful item for anyone who loves drifting. Our keys love it.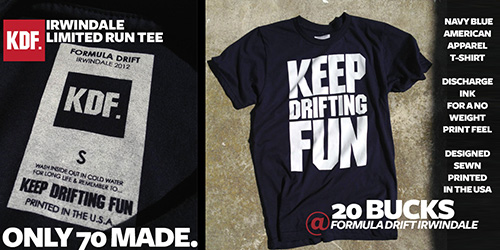 The third new item is our limited run tee shirt for the event. We have printed 70 KDF navy tee shirts just for Irwindale 2012. With a special edition tag print and a color we've never used before – Navy Blue. It is printed on an American Apparel Tee Shirt – so its lightweight and comfortable from the first time you wear it. Plus we used discharge ink so unlike our older tee shirts it doesn't feel like you have a big KDF print on your chest. Its breathable and very light. One of our favorite color prints to date.
See you at Irwindale. We will be closing the KDF store to re-stock for our winter 2013 line coming soon.